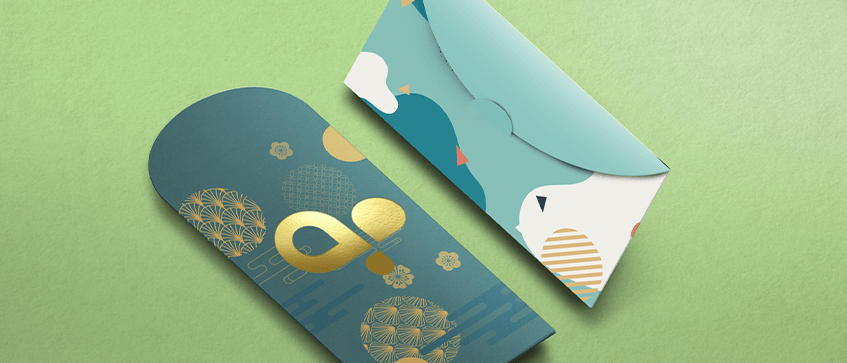 If you've printed money packets with us, you will notice that we offer a wide range of options, such as DIY Money Packets, Chinese New Year Red Packets, Customized Money Packets and more! Each money packet type is printed in a different process. Here in this article, we will talk about our customized money packets, and how to print with them.
Customized Money Packets
As the name suggests, this money packet's main advantage is that it is customizable, can be hotstamped on, and printed with ease. Unlike DIY Money Packets, you don't have to worry about folding, cutting, pasting and all that jazz. Just place an order, follow the instructions and you'll get professionally printed money packets with your design on them. Without further ado, here is how to do it:
1. Download Our Template
Once you've entered our Customized Money Packets page, there will be a section to download our templates. Currently, we offer pocket and wallet formats for you to choose from.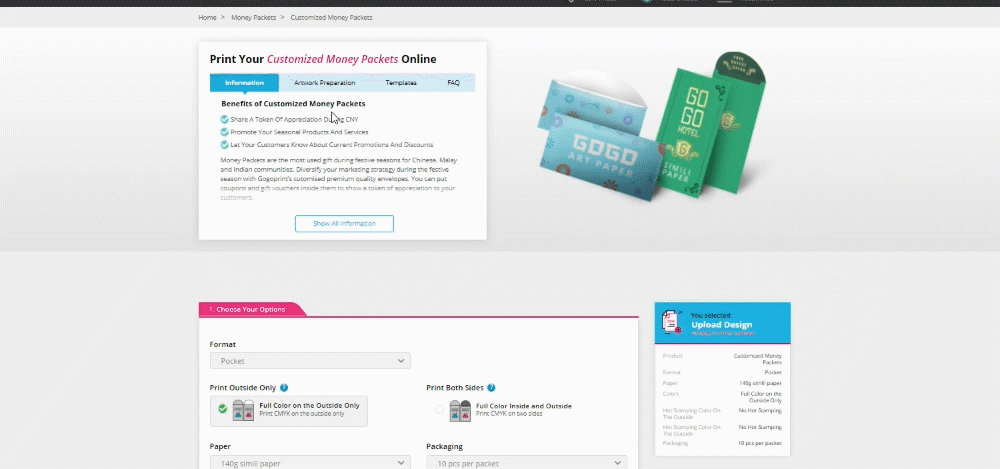 2. Open File with Adobe Illustrator
Open our templates (ai or pdf) with Adobe Illustrator.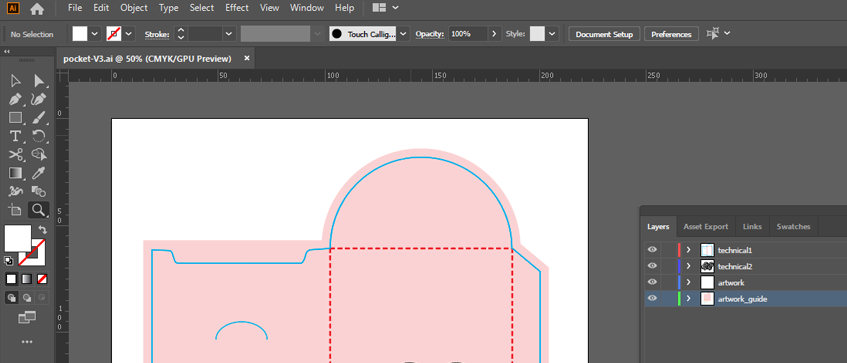 3. Check the Artwork's "Layers"
Here comes the tricky part, you will see that there are 4 layers in the file itself (Window>Layer). Each layer has their respective purposes, which we will further explain below.
Layer 1: Technical1
This layer the die cut line of the money packet, this is where we cut out the money packets using the shape in this layer, do not edit or delete this layer and leave it as is
Layer 2: Technical2
This layer is for the hotstamping area of the money packet.
Layer 3: Artwork
This layer is for your artwork. Place your intended artwork into this layer.
Layer 4: Artwork_guide
The last layer provides the guide and instructions for your money packet. The "pink area" is basically the area of your artwork, which includes the bleed as well. You can delete this layer after everything is completed. Be sure to read the instructions before you start designing your money packet.
4. Place your Artwork in the "artwork" Layer
As said in the previous step, you can start your design, or place your artwork into this layer.
*Be sure to follow our die cut line shape for your actual artwork and bleed according to our given "pink area"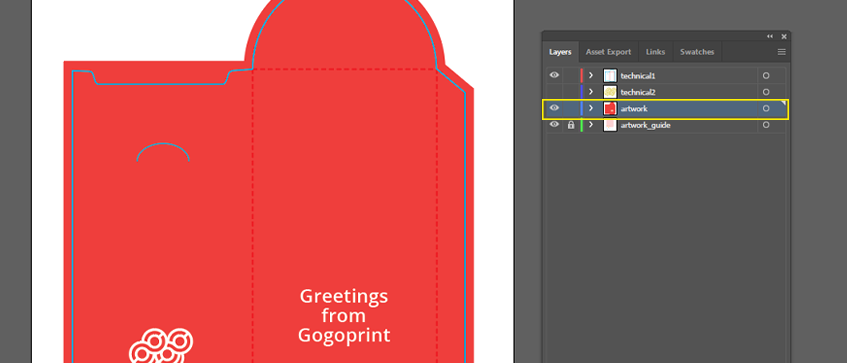 5. Place your Hotstamping Area in the "technical2" Layer
As explained above, this layer is for the hotstamping area of your money packet. Place your hotstamping artwork (vector) into this layer, do not leave duplicates of your hotstamping area in any other layers. If you did not opt for hotstamping on your money packet, you can delete this layer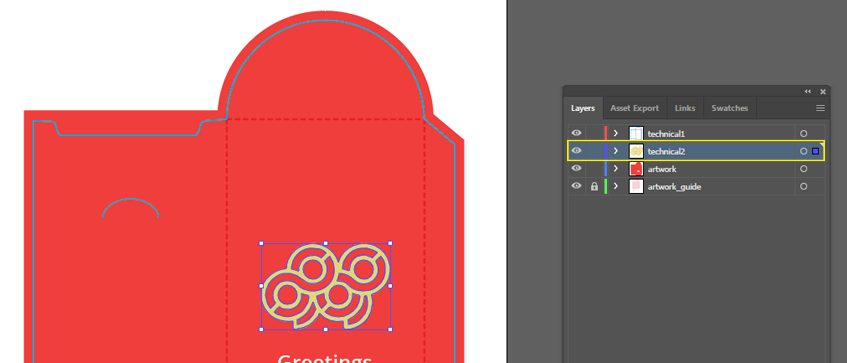 6. Check the Orange Area (Pocket Format Only)
This is more of a precautionary step and only applies to the pocket format, you will notice that we have a specific area in our guide that is orange. This area will actually be covered by the flap of the money packet after print. Which is why we highly advise you not to place any logo or important text into the orange area. However that does not mean you should leave the area empty, treat the orange area like how you treat artwork bleed in general, "bleed" into the area and leave important elements out of it.
In other words, you can leave elements like pattern and colors into the orange area, but it will be covered by the flap. as shown in the image below.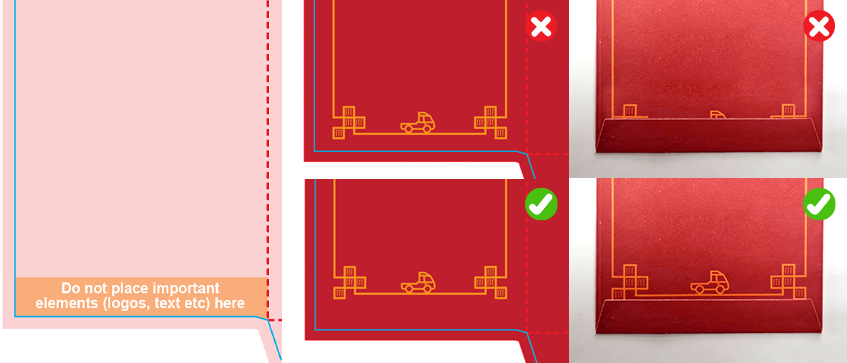 7. Delete the "artwork_guide" Layer
After everything is set and done, you can delete the "artwork_guide" layer as it has served its purpose :)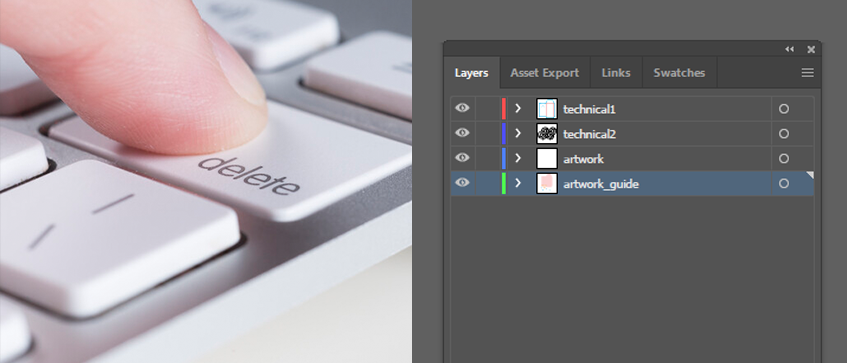 8. Ensure that your Artwork is Print-Ready
As with all other printing items, our money packets have requirements to be print-ready as well. This is to ensure that your money packets are printed without issues and in top quality. Few things you should check is your artwork's bleed and margin. You can also refer to our artwork checklist to see what is needed for a print-ready file.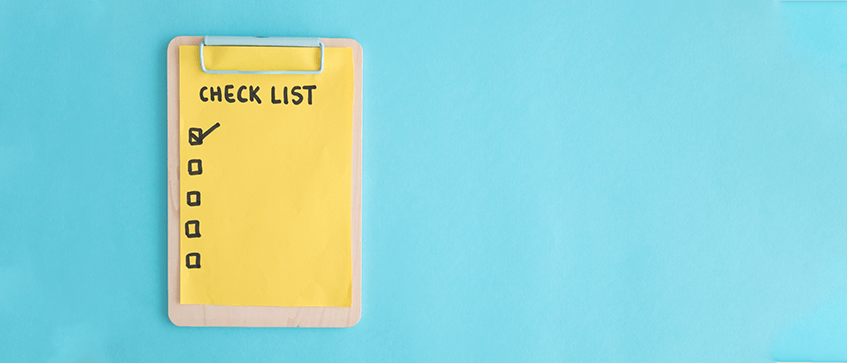 9. Save your File as PDF
Save your design as a print-ready PDF file. When the pop out window appears, select Illustrator Default from the Adobe PDF Preset menu at the top of the window. Then go ahead and click Save PDF to create your PDF file.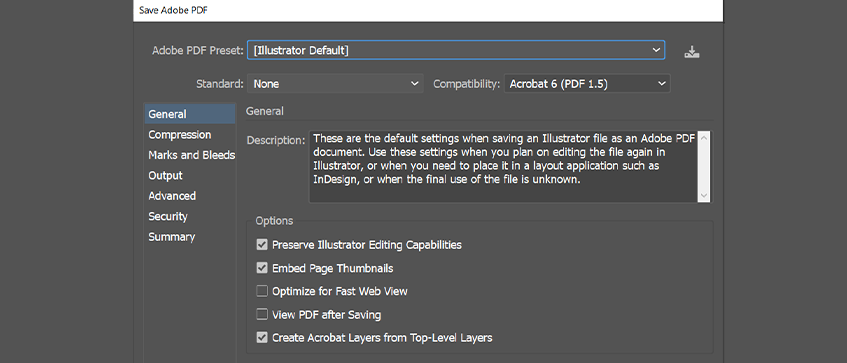 Conclusion
Hooray! You've now created your very own customized money packet with Gogoprint. We hope our tutorial can guide you through using our templates easier. Once you get used to these steps, it will be a smooth ride in the future.
Lastly, don't forget to upload your file into our website and leave the rest of the hard work to us. Happy money packet printing!