Product Details
Stickers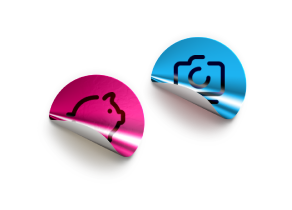 Print Stickers with Gogoprint to:
Generate brand recognition

Spread brand awareness

Create a buzz around your brand
Simili Sticker:

Our simili paper stickers are great to print stickers to be used on any material or surface, as long as it is not outdoors. This kind of sticker is perfect if you want your message to pop up against a predetermined background. The qualitative material ensures that stickers will remain in place as long as you need them to.
Mirrorcoat Sticker:

Our mirrorcoat stickers are paper stickers, coated to give them a glossy look and feel. As the simili paper stickers, they cannot be used outdoors.
Synthetic Matt White Sticker:

As they are made with a synthetic material, they are optimized for outdoor usage, to withstand the elements. The qualitative material ensures that stickers will remain in place as long as you need them to. They have a nice matt white look.
Transparent Synthetic Sticker:

As their name gives away, transparent synthetic stickers are see-through and optimized for outdoor usage, to withstand the elements. The qualitative material ensures that stickers will remain in place as long as you need them to.
Why Print Stickers Online?
From a company/brand perspective, there are many reasons to print stickers and distribute them. Popular uses range from brand marketing and printing collectible stickers to consumers, to printing custom labels that will help you organize and run your business. Stickers offer the advantage that they can be used anywhere, from smartphones, laptops, and notebooks to cars, helmets, and store windows.
Printing stickers had been an integral part of some company's guerilla marketing strategies. Guerilla marketing refers to companies' efforts to promote their products or services in unconventional ways, that require little budget and capture the attention of the public at a more impactful and memorable level. Typically, guerilla marketing strategies create a buzz that enhances the recognition and strengthens the identity of a brand. So, why is printing stickers guerilla marketing? Printing stickers is the ideal marketing medium for branding campaigns and long-term catchy slogans, because they can reach customers not accessible by more traditional print advertisement.
Therefore, you should print stickers with a creative layout, smart graphics, and a catchy text, so that people visually and emotionally enjoy them because they make them laugh, think, or remind them of good times. Such stickers usually just include the name, logo of a company and some cool graphics, and they can then be handed out for free at exhibitions, conventions, fairs, and any other kind of event. People absolutely love receiving this kind of goodies with individual design, because they can use your printed stickers to make their laptop, notebook or car look nicer.
You can also promote your business and foster customer loyalty by printing collector stickers for your customers. For instance limited edition stickers either designed by the customers or voted on by the customers are a great way to make them value the stickers even more. If your company has a lot of recognition, and you printed sticker design that are original and nice, your stickers might get collector status on their own.
Finally, you can print custom stickers online to use them as standard labels that you can use to organize and develop your business. It is just a matter of thinking about which labels you need to better organize your business, printing the required stickers, and using them. For instance, if the products that you sell come with instructions, you can print those on a sticker and conveniently stick them directly on the product.
You should always remember that the main advantage of printing cool stickers that customers/leads actually use, is that the stickers turn those people into mobile advertising mediums, which is invaluable. For example, if people like to stick your sticker on their computer or smartphone, they will be exposing your brand and spreading your marketing message to everybody that sees them using said computer or phone.
To ensure that you can print stickers that stand out to the maximum and reach their goal of creating a buzz around your brand/product, Gogoprint allows a wide degree of personalization in terms of format, material, refinement, and shape. You have the choice between clear and non-clear, indoor or outdoor stickers (which are mandatorily finished with lamination to protect the prints from external influences). As standard, the stickers come in a rectangular shape, but you also have the option to order round stickers or stickers with die-cut (which can have absolutely any shape you wish). As with Gogoprint's other products, low prices and high quality are guaranteed, while delivery is free of charge nationwide.(more information about how to order)