One of the most important aspects of photography and digital design is image quality. Your digital artwork may appear perfect on-screen, but it might appear grainy when printed. Do you know why? This is a common problem, and it is entirely due to the image resolution.
There are several basic design and printing-related components to be aware of in order to ensure that your printed goods are in good condition and appear bright and clear. Let's get started with a short introduction. To begin with, many of you may be wondering, why does 300 DPI matter so much for printing digital art? Or even, what exactly does 300 DPI mean? Don't worry; such terminology may be unfamiliar to someone who does not work in the industry.
What is DPI?
'DPI' stands for 'Dots Per Inch' in the printing industry. This value represents the number of dots printed per inch. As a result, it goes without saying that the greater the DPI value, the higher the printed dot density, and hence the better the resolution. This means your printed artwork will appear clear and less pixelated. This knowledge may come in handy depending on what you want to print. Any images in your digital artwork, including logos, must meet a certain DPI threshold in order for the final print to look wonderful as you want it to be. Just because these graphics seem great on your laptop doesn't mean they will look the same when printed.
Does the colour mode
matter?
Of course, choosing the right colour mode is very important. However, before we get too technical on this topic, let's just cling to the basics. If you want your print files to have stunning bright colours, use the CMYK colour space instead of RGB; you can refer to the image below. Even so, we will not go into greater detail on this matter, but, you are welcome to read our blog entry on the topic here, where you will learn everything you need to know.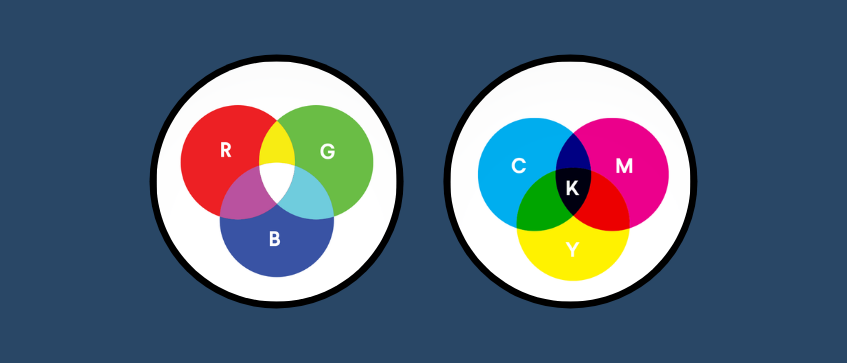 Why is 300 DPI the bare minimum DPI for artwork if you want a good printing outcome?
The answer may seem a little obvious. The higher the DPI value, the higher the quality of the image, since higher DPI means increased detail. To make it easier to understand, let me simplify things for you by providing an example. Let's delve a little more into the detail. As you can see below, there are two types of images: bitmap images and vector images.
Bitmap images are stored in the form of a series of tiny dots known as pixels. To create an image, these pixels are arranged in a pattern. When you zoom into the image, you can see the individual pixels that make up the image.
Vector images are generated based on mathematical formulas to draw specific lines and curves to produce certain shapes. When you zoom into a vector image, it retains the same sharpness as the original size.
However, you need to make sure to double-check the resolution (DPI) of the bitmap images in your digital artwork to maintain their sharpness.
Can you spot the difference?
Let's discuss the above images. It's very obvious that the visual sharpness improves as the DPI increases from left to right. To avoid any unpleasant surprises when getting your artwork printed, you need to ensure that the DPI value is 300 or above when printing any graphic.
How can I easily check my artwork's DPI level?
There are several methods for determining the DPI of your artwork. The simplest method is to use Paint. All you have to do is open Microsoft Paint and navigate to the Properties section for this artwork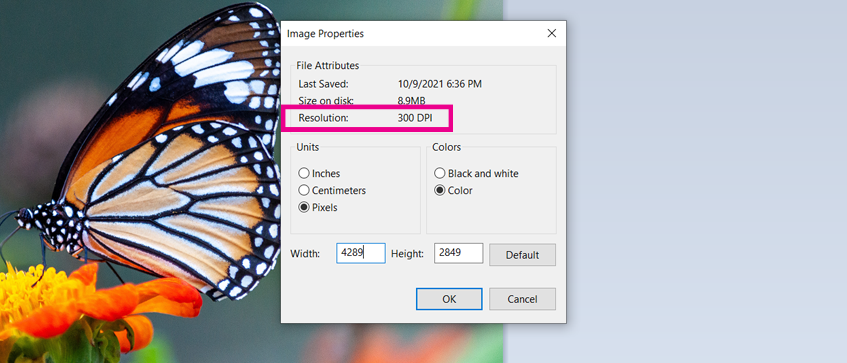 This image has a resolution of 300 DPI, as shown in the Image Properties. As a result, it meets the minimal requirements for printing your artwork, and you can move ahead with designing your artwork and placing your intended order.
However, if you prefer to use Adobe Illustrator, here is a step-by-step tutorial on how to check the DPI of your artwork within the software.
If you still don't see that the value in making sure your artwork is at least 300 DPI is important, here is another example to demonstrate the difference in the end result. Let's study the two different cases below together. We have picture A in 96 DPI and picture B with 300 DPI. Both of these pictures appear clear and bright in terms of resolution. But if you look closely and try to zoom in on both of these images, you can clearly see that the resolution is insufficient for picture A. Printing them will reveal the quality of each image. One of them will appear blurry or more pixelated.
Picture A (96dpi)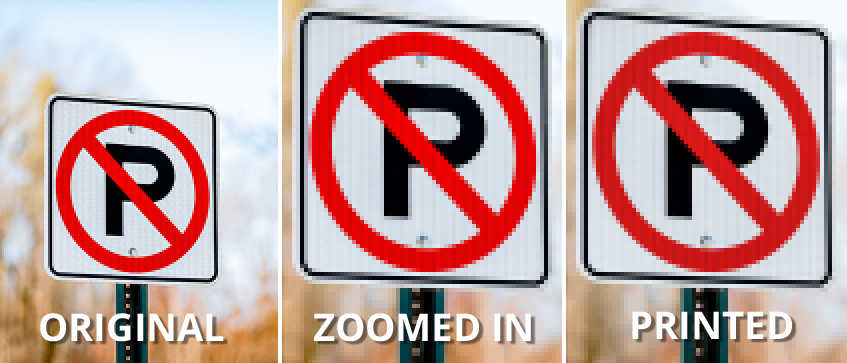 Picture B (300dpi)
This article should have made it clear how important it is to ensure that all images used in your digital artwork submitted for printing have a minimum resolution of 300 DPI. You can ensure a satisfactory outcome for any printing job by following the steps we highlighted. If you are looking for printing services in Singapore, why don't you try out Gogoprint! They can help you deliver great quality printed products you are looking for. Happy printing!