Our most anticipated product is now here! What is it you ask? If you could describe something that is tiny, fun, cheap and portable at the same time, it would be die cut stickers. Here in Gogoprint, we offer a wide range of products and materials to choose from, and we've just added die cut stickers into the mix! In this article, we'll give an introduction to our newest member and what makes them stand out compared to regular stickers.
What are Die Cut Stickers?
Die cut stickers are stickers that can be cut to the same shape and size as the paper backing. Which means they can be in any shape you choose and there'll be no additional backing around the edge of the stickers.
What makes die cut stickers special?
As mentioned in our explanation of die cut stickers, these stickers share the same edge with their paper backing, this makes them slightly harder to peel off compared to sticker sheets. Thanks to the way they are cut, die-cut stickers will always be presented as stand alone stickers, and not as a set of stickers attached to a sheet. This is a good thing because that would mean that your printed items are not restricted to a square box and can be cut with fun shapes and sizes. Moreover, they are much more flexible to use on many occasions!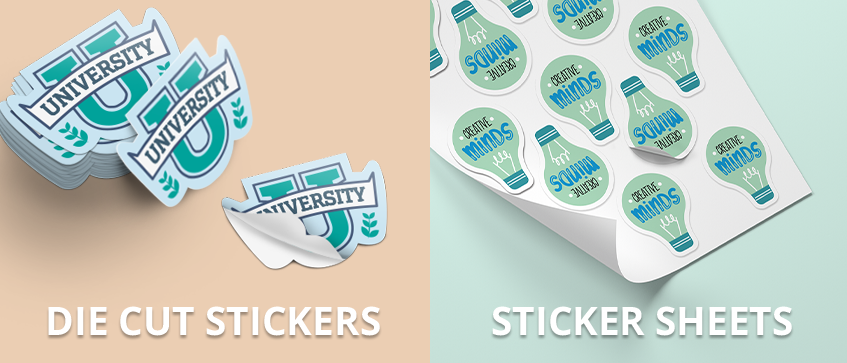 When to use die cut stickers?
Die cut stickers are great engagement tools that can keep people going, everyone loves stickers after all.
For example, you can stack your stickers up at a counter in your store, decorate them in your shelves or even place them in a basket full of freebies. From a business and marketing perspective, this product has plenty of potential due to it's relatively low cost.
Here are some ideas where you can fully utilize die cut stickers:
Give them as a freebie during exhibitions or conventions
Utilize them as engagement tools for fun activities in events
Place them at your counter as freebies for customers
Use them as decorations in your store
Promote or distribute them in the streets (Your stickers can even just be a logo)
Sell them as a merchandise for your brand
Make them as your creative name card
And the list goes on!
Conclusion
We hope this brief introduction to our new product is an eye opener for how you use these awesome stickers. Now that you've got the idea, try out our stickers in your marketing campaign! Our die cut stickers offer a variety of material options such as paper, mirrorcoat, synthetic transparent and more. With these materials combined with a great design, your die cut stickers will be sure to reach out to customers in more ways than one!