How to Check Dimensions of a PDF File
Ordering your very own custom printed products online is easy, however, there sometimes appears to be some confusion related to the initial artwork file and its specifications, especially when customers are not the ones who directly created the file. Ensuring that you know the dimensions of your artwork file, for example, is crucial to order the correct products on Gogoprint.
Let's take an example. You just received your new name card's design in pdf format from your designer and now wish to place an order. However, the designer did not mention what the exact dimensions of this name card is. Without knowing the dimensions of your artwork, the ordering process is pretty much a guessing game. If you pick the wrong format, your order will be delayed, and that is something none of us want. It is therefore very important to know the correct dimensions of your artwork so you can place your order correctly the first time.
Adobe Acrobat Reader
One way of checking the dimensions of artwork saved in pdf format is to download Adobe Acrobat Reader, which is FREE of charge and doesn't take long. Once downloaded, simply open your pdf file in Adobe Acrobat Reader, press Ctrl+D or File > Properties (Document Properties). And voilà! In the Advanced Information section, you will find 'Page size'. Now, if you want to know your dimensions in units other than inches, simply convert it (1 inch -> 2.54 cm).
Depending on what computer you have, your standard PDF viewer might differ. For those with Foxit PhantomPDF (if you don't have it, you can easily download a free trial online), the same procedure applies as in Adobe Acrobat Reader. Simply open your file, then either manually go to File Properties or just press Ctrl+D.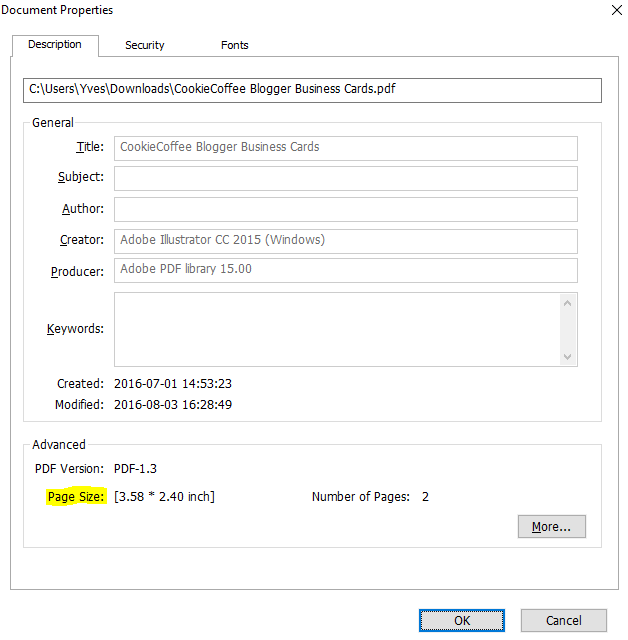 NOTE!
Before you decide to place your order, make sure that your artwork includes the necessary safety margins and bleed. Artwork files that already include bleed will always have slightly larger dimensions (+0.6cm in width and +0.6cm in height) than the final product, which is normal! For example, if you want name cards in the dimension 9x5cm, your artwork file's dimensions should be 9.6x5.6cm, which includes a bleed of 0.3cm on each side of the card. Similarly, if you notice that your name card artwork file has the dimensions 9.6x5.6cm, it means that you need to order the standard name card format 9x5cm.
To check whether your artwork files include bleed, you will have to talk to your designer, or in case you have designed the artwork yourself...think back and remember if you added 0.3 cm on each side of your artwork.
Quick tip:
If you notice that the dimensions of your artwork file correspond to one of those product's standard formats plus 0.6cm in width and height (0.3cm on each side), this probably means that bleed is already included. However, it's always best to check with your designer directly.
Bleed is very important because you don't want to end up with name cards, or any other product, where important information or features of your design are lost because you missed this simple step. For more info on why it is of utmost importance that you include bleed in all your print-destined artwork just click here.
So, here we go again! That should have cleared that up for you, happy printing!