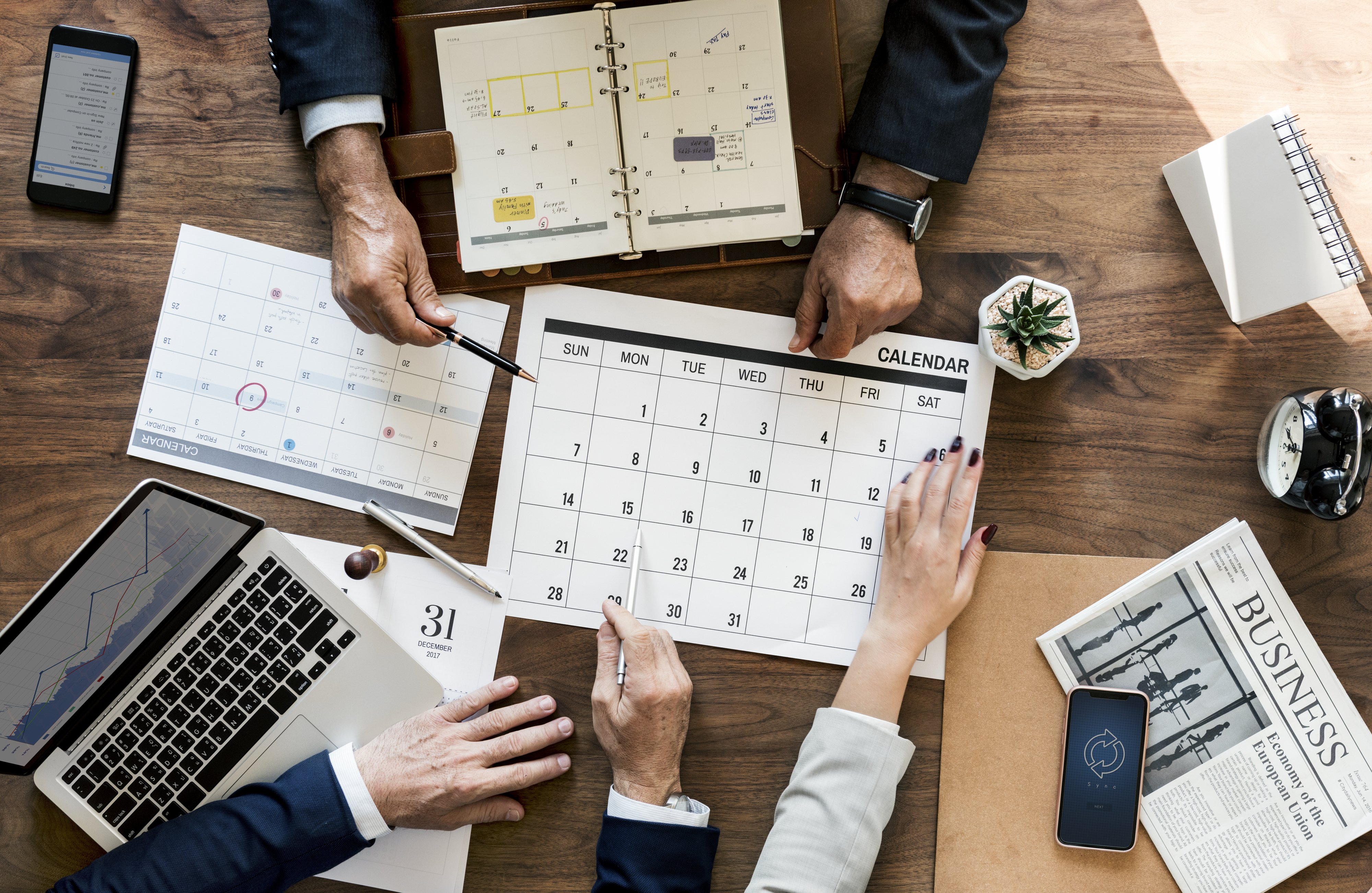 Every prospect is important for a small to medium-sized business, which is why you never want to "pitch" or "sell" your products or services on the first contact - there is no better way to scare off a potential customer!
Enter content marketing…

Content marketing relies on creating & distributing relevant and valuable content as deemed by a specific audience-type on a consistent basis with the desired results of attracting & retaining that targeted audience in hopes of turning them into a lead and ultimately a sale. Using content to provide value is a strategic and time-tested marketing approach that relies on providing useful information first and foremost to the prospect or visitor and then allowing them to "find" one's product or service on their own.

People want to buy, not to be sold to!

Content Marketing for SMEs
Why is content marketing important for SMEs?

Unruly, a video ad tech firm in the digital advertising space, performed a survey on the effects of content marketing in Asia. They found that 86% of Southeast Asian internet users have little to no trust in any form of online advertisement that they deemed to have no authenticity.

Which brings us to the benefits of content marketing, one of which is…
Authenticity
There is no better way to provide authenticity than credibility. There is no better way to prove credibility than by solidifying your brand identity. There is no better way to solidify your brand identity than by providing value-based content on your own authority website and on that of others. Think about it. When you consider brands that have a strong online presence, you most likely remember those who are providing exceptionally relevant content on a regular basis. They are the brands who provide their customers and website visitor with additional resources besides that of their products and services. These additional resources come in the form of free, informative, and relevant content.

Once an online presence is established with continuous and ongoing content, visitors who consume that content begin to view the brand as an established authority within their given industry. Naturally, once the brand reaches "authority" status, they will be the ones to convert their grateful visitors into leads and sales

The second benefit of content marketing is…
High Return on Minimal Investment
Small to medium-sized enterprises do not have the big advertising budgets that larger enterprises do, which is why content marketing can be a great source of marketing for them. With content marketing, they can advertise their brand, product, and services for a fraction of the cost that other online marketing methods.
Of course, if you are able to produce the content in-house the cost is extremely low but even if you hire someone to create the content for your business, the cost is still cheaper than online marketing methods like online paid advertising, for example.
Content marketing usually costs 62% less than most other traditional & outbound marketing methods do!
If you could cut your Facebook advertising costs by over 60% and increase leads and sales all at the same time, wouldn't you?
Now, onto the third benefit of content marketing…
Promoting Without Selling
Remember, people do not want to be sold, they want to buy. This means it is better if the potential customer finds your products or services through your content than by you directly "selling" them on it. Your customers have problems that go beyond your business's products and services. These issues can be addressed through content that provides solutions to those problems. Once those problems are solved, who do you think your customers will go to when they have a problem that your products and services can fix? Help your audience first and they will most certainly help your bottom line in the future!
3 Tips to Ramp Up Your Brand's Content Marketing
The previous statistics above shine a positive light on the effectiveness of content marketing. Yet, all those statistics are rather meaningless without a well-defined content marketing strategy. The following 3 tips, while not a complete strategy in and of itself, will give you and your small to medium-sized business a foundation from which to build a proper content marketing campaign.
Define Your Audience
You should understand your target audience's goals, desires, needs, and demographics before you start writing content for them.
How can you provide the content you audience desires, if you don't even know who that audience is? The goal here is to look for who might potentially be interested in your content within your specific niche and the best way to do this is with Google Analytics.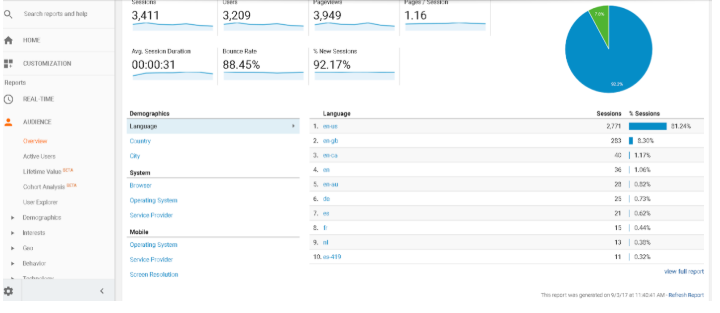 The "Audience Overview" section gives a detailed account of who is interested in your brand by displaying specific visitor demographics and other relevant visitor information.
Of course, there are many more personal details you should uncover about your audience, such as where they hang out online and which blogs and sites they visit, but Google Analytics is a good place to start your audience "data mining" from. Later you can compare any other pieces of data you find with your Google Analytics information to bring the pieces of the puzzle closer together.
Media Outreach
Media outreach is comprised of guest blogging and other forms of media participation that is not of your own such as participating in podcast interviews or guest speaking on webinars.
This is called "earned" media as compared to paid media where you pay a monetary sum to get your content seen on relevant and populated media channels. Guest blogging is by far the most proven way to get the highest backlinks and "buzz" about your content and online presence. If you can score some guest blogs on giant news sites like Huffington Post & Forbes then you will be sitting pretty but it is not that easy.

The process of guest blogging goes something like this:

1 - Find top blogs within your niche.
2 - Pick between 3 to 5 of them and check to see if they allow guest blogging opportunities.
3 - Send an email to the top blogs you have chosen, introducing yourself, pitching your guest blog idea, and asking permission to guest blog on their site.
4 - If you get an approval, write an original and valuable blog post that is well-suited to the blog's readers.
In order to find relevant blogs within your niche, you can use the following Google search:
"top dog training blogs" - simply replace "dog training" with your chosen niche or industry.

*** Be sure to choose the "Past year" option on the "Any time" tab right below the search box and menu options on Google to get the most recent and up-to-date blog listings.
Industry Research
In order to make sure that your content remains relevant and fresh to your readers, you should stay on top of industry trends. This not only helps you in establishing your business's reputation as a thought leader within your industry but also will help your SEO efforts - staying ahead of the game in Google's search rankings by obtaining quality backlinks.
Here are some easy ways to stay on top of Industry trends: Update your business 's news feeds on your social media accounts - Facebook, Twitter, Instagram - to reflect industry trends.
Subscribe to industry-specific trade journals & magazines. Look at what your competitors are doing to spot any emerging trends. Attend industry-related conferences, Facebook groups, and niche-specific training to pick up new ideas and insights pertaining to your industry.
Conclusion
The question is not whether you should use content marketing but why you shouldn't?
Content marketing delivers all of this plus provides material that your audience wants and that sticks around, gaining the above benefits year after year without having to tweak it or pump more money into it.

Content marketing is a win-win situation for the business and the customers they serve!
This content is brought to you by Ted from Ice Cube Marketing,
a digital marketing agency in Singapore that helps local small businesses acquire leads from channels such as Facebook and Google.